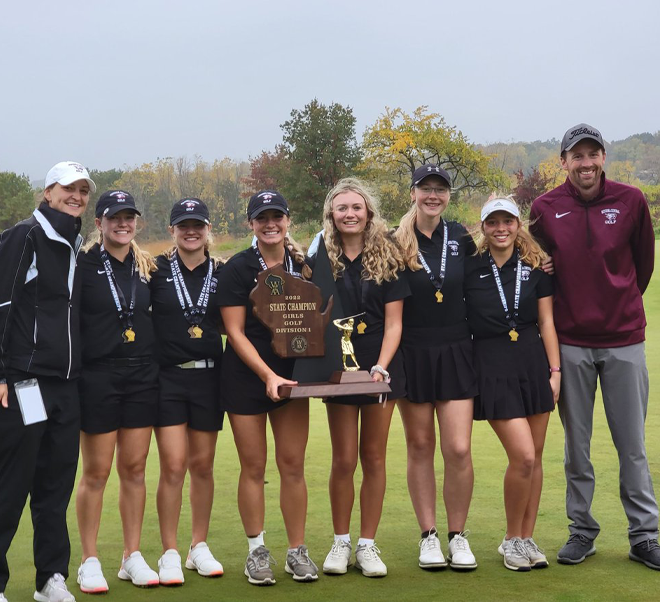 State Champion Westosha Central Golf Team will be recognized at Holy Rosary's 70th Annual Sports Night on Sunday, February 19, 2023.
In a dominating performance in the WIAA Division 1 State Tournament, Central took a quick lead and just kept building it, running away from the field to win its second consecutive state team championship and the third WIAA girls golf state team title in Kenosha County history.
The Falcons finished with a two-day team total of 626 for a19-stroke victory. Central's score was 11 strokes better than the 637 it carded in winning the state title last season and the third-lowest 36-hole total in WIAA State Tournament history.
Photo: From left, assistant coach Sarah Vozel, Kylie Walker, Katelyn Walker, Elle O'Reilly, Chloe Brown, Emily Mallace, Karen Pisano and head coach Ryan Dahl
Sports Night will also be honoring Kenosha County's Outstanding High School Athletes – Navaeh Thomas – Bradford High School and Keany Parks II – Bradford High School. In addition, Co' Ji Campbell State Champion wrestler from St. Joseph Catholic Academy will be recognized.
Sports Night will also recognize Lennie Boresch's induction into the Professional Bowlers Association (PBA) Hall of Fame and John Matera's induction into the Wisconsin Baseball Coaches (WBC) Hall of Fame.