Our mission is to showcase the character, athleticism, community service and achievements of the top High School Scholar-Athletes in Kenosha County.
Our Founders and a Rich History
Our Lady of the Holy Rosary of Pompeii was founded in 1904 as an Italian American parish in Kenosha, WI. Holy Rosary School opened its doors in 1953. Initially Kindergarten through 6th Grade, the parishioners funded an expansion that included additional classrooms, a gymnasium and full service kitchen. The Holy Name (Mens) Society took it upon themselves to raise funds to maintain the gym and provide monetary support for Holy Rosary sports programs. A Fellowship Dinner in 1954 was the birth of Sports Night as we know it today.
The Holy Rosary Outstanding High School Athlete Award was first presented in 1957 to the Outstanding Italian Catholic Male Athlete of the Year.  In 1968 the Sports Night Committee expanded eligibility to all male high school seniors regardless of ethnic or religious affiliation.  In 1978 at the 26th Annual Sports Night, the first Outstanding Female Athlete of the Year was recognized at the banquet.
The award was renamed in the honor of the late Alan Ameche after he donated the trophy that currently displays the names of all recipients of this prestigious award.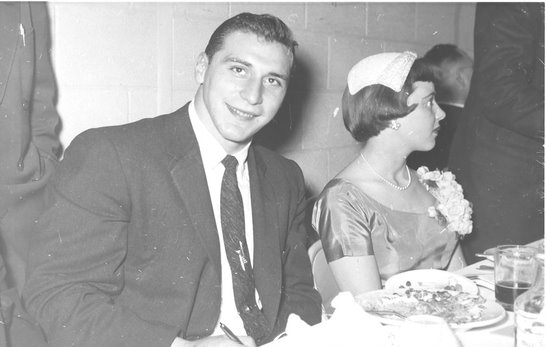 Alan Ameche, Dinner of Champions 1955
Lino Dante 'Alan' Ameche – The Horse
Alan Ameche (1933-1988) earned All-State honors with the 1950 Kenosha High School Red Devils en route to an 8-0 record and ranking as one of the strongest prep teams in state history.  He helped Wisconsin post a 26-8-3 record and earn a Rose Bowl berth during his career as a Badger. He also gained a school record, 3,345 yards. In 1954 he became the only Wisconsin player to win the coveted Heisman Trophy, which he later donated to the University of Wisconsin.  Signed by the Baltimore Colts, he gained 4,015 yards in five seasons, helping the Colts win NFL titles in 1958 and 1959. "The Horse" also played in five Pro Bowls and was enshrined in the College Football Hall of Fame in 1975.