The Sports Night Executive Committee recognizes the unprecedented level of commitment and years of service by two of our late founders, Pete Turco and Al DeSimone and proudly named the scholarship in their honor.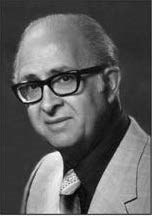 Pete Turco
Pete Turco served on the Sports Night Committee for many years and was instrumental in securing many of the local and national sports celebrities that appeared at Sports Night in the 1950's, 1960's, 1970's and 1980's.  His love for sports and position in the Sports Department at the Chicago Daily News proved to be valuable assets for Holy Rosary Sports Night and helped make it the great Kenosha tradition that it is today.
Al DeSimone
Al DeSimone, was a charter member of the Sports Night Executive Committee since the idea of the banquet was brought to life and was instrumental in keeping the program and traditions alive and thriving through five decades. He served on the University of WI Board of Regents and was an avid fan of WI Badger Football. In fact Al and his wife Bernice utilized their good fortune to fund football scholarships at UW-Madison. Al's effort and relentless commitment to Holy Rosary and the youth of Kenosha are enduring examples for us all.